McFarland Peak


Location: Nevada, North of Spring Mtn. Range
Elevation : 10,742 ft





Overview...
McFarland Peak is 4th highest Peak in the Southern Nevada. Its located on the North part of Spring Mtn. (Mt.Charleston) Range.
You can see this mountain from North 95 Fwy or Cold Creek Road. You will see it on the left of Bonanza Peak.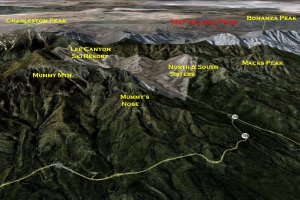 Route...
* From Lee Canyon *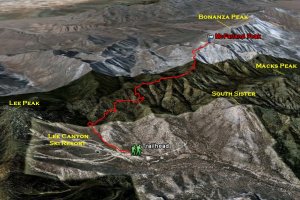 Trailhead is Bristlecone Trailhead. (Upper or Lower)
Hike about 2.5 mile to get to the Bonanza Trail Junction. Then follow the Bonanza Trail for another 3 miles.
Once Bonanza trail comes around the South of McFarland Peak, leave the trail and scramble up the steep gully for 1,200 ft to the peak.

Stats:
Distance: 14 miles *1(up and back)
Total Elevation gain: about 5,000 feet *1
Time: 7 - 8 hours
Difficulty: 5
Class: 2 - 3
*1...if you take old Bristlecone trail via Upper Bristlecone trail, the distance is about 12 miles and total elevation gain is about 4,700 ft.

Elevation Chart


My hike Album....

2011/07/07
2010/08/28
2010/08/21
2009/05/02
2008/10/31
Related Link...

Summit Post